Helooo everybody!
Today we're talking about how to wear sweaters over dresses. I love how they look like aaaand you can wear summer dresses in winter this way! I know: summer dresses should be for summer only, but I just love them and wish I could wear them all the year. And now I wanna share with you how. Let's see how to do it 🙂
Ciaoooo a tutti!
Oggi parliamo di come indossare i maglioni sopra i vestiti. Adoro come stanno bene i maglioni sopra i vestiti eeeeee in questo modo potete indossare i vestiti estivi in inverno! Lo so: i vestiti esitivi dovrebbero essere solo per l'estate, ma io li adoro e vorrei indossarli tutto l'anno. E adesso voglio condividerlo con voi! Vediamo come farlo 🙂
---
FIRST
Wear sweaters over black or denim dresses. This is the easiest way to do.
Indossa i maglioni sopra vestiti neri o di jeans perchè è più facile abbinarli. 
Photo by everythingexclusivemag

Photo by prettydesigns

Photo by glamour

Photo by glamradar

Photo by aelida
---
SECOND
Another (quite) easy way: over lace dresses. Best if white or light/pastel colors.
Un altro modo (abbastanza) facile: con vestiti di pizzo. Meglio se bianchi o di colore chiaro o pastello.  

Photo by glamradar

Photo by outfitideashq
---
THIRD
Sweaters over floral/indie patterned dresses is classic. Seen it every where and it's very cute on my opinion 🙂
Remember whatever pattern you choose make sure it's a small pattern, avoid big ones.
Maglioni sopra vestiti con fiori/fantasie indie è un classico. Li ho visti ovunque e secondo bene sono molto carini 🙂
Qualsiasi fasiate scegliete, assicuratevi che sia piccola e non grande.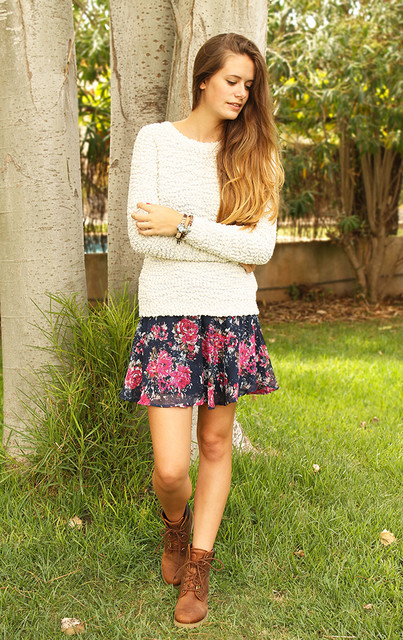 Photo by prettydesigns

Photo by fashioncloud20

Photo by stylishwife

Photo by fashionoah

Photo by shefinds

Photo by have-need-want.com
---
FOURTH
If you need an outfit for a cold night out this one's perfect: sweater over dress with paillettes.
Se avete bisogno di un outfit per una serata fredda questo è perfetto: maglione sopra vestito con paillettes.

Photo by < ahref="http://stylesweekly.com">stylesweekly
---
FIFTH
Create your own style! Just make sure you don't overdo with colors or patterns.
Create il vostro outfit! Basta che state attente a non esagerare con colori e fantasie.