Has ever happened to you that you have this simple white top but wearing it with a pair of jeans and a pair of sneakers makes you feel like everybody else but yourself? I like fashion because I can wear what I like and style it the way I want and show a little part of me through it. But, if I end up wearing a "whatever" top with the classic pair of jeans and a whatever snkeakers I won't feel myself in it and I won't even feel confortable wearing it, just because that isn't me. So now I wanna show you how to style a white top creating an original outfit!
Vi è mai successo che avete questa maglietta semplice bianca ma indossarla con un paio di jeans e un paio di scarpe sportive vi fa sentire come una qualsiasi persona? A me piace la moda perchè posso indossare quello che mi piace e abbinarlo come voglio and mostrare tramite essa una piccola parte di me. Ma, se alla fine finisco per indossare una qualsiasi maglietta bianca con un classico paio di jeans e un paio di scarpe sportive allora non sarei me stessa e non mi sentirei neanche a mio agio, perchè quella non sno io. Quindi vi voglio mostrare come indossare una maglietta semplice bianca creando un outfit originale!
1 wear it with colored trousers/jeans. Also patterned trousers will be perfect. Style your outfit with a black necklace and a black pair of shoes or a white necklace and a white pair of shoes. Avoid mixing other patterns or colors. See examples below.
1 indossalo con pantaloni colorati o jeans. Anche pantaloni con fantasie andranno bene. Abbinaci un paio di scarpe nere e una collana nera oppure un paio di scarpe bianche e una collana bianca. Evita di aggiungerci altri colori o fantasie. Vedi degli esempi qui sotto: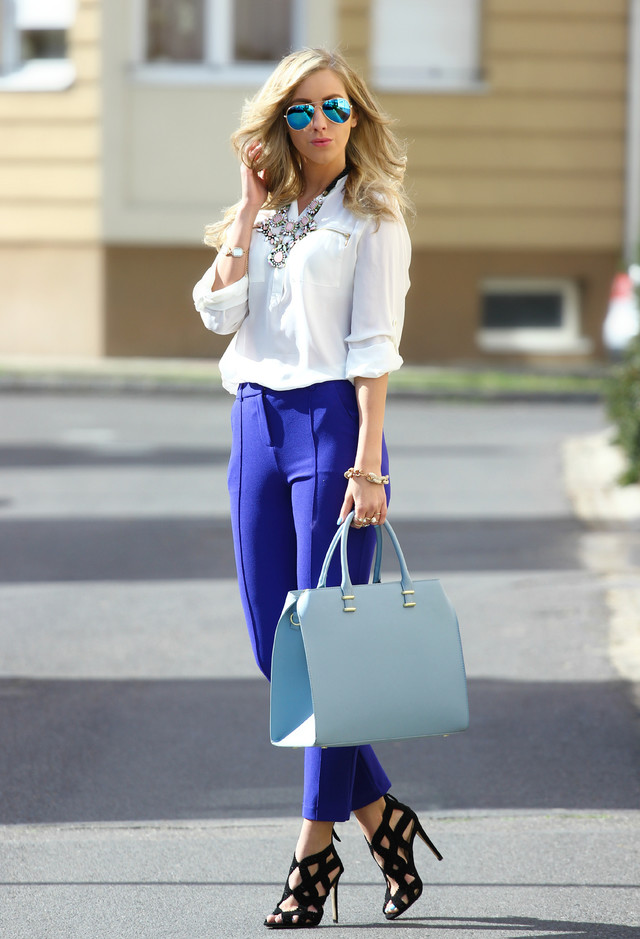 Photo by prettydesigns
---
2. Now let's see how to wear it with skirts. The rule is the same as the trousers, let's see below some examples:
2 Adesso vediamo come abbinarlo con le gonne. La regola è sempre la stessa, vediamo sotto degli esempi:

Photo by jolihouse
Photo by lovethispic
3 Another great idea would be styling your white simple top with a particular sweater or jacket or bag. Something that will be the protagonist of your look so that your top will be in the background and you won't look like wearing a "too much seen" outfit.
3 Un'altra bella idea sarebbe abbinare la tua semplice maglietta bianca con un maglione particolare ma anche un giacchetto o una borsa. Così che si noti di più il particolare del tuo outfit, lasciando la maglietta sullo sfondo, e in modo che non sarà un look già visto o scontato.

4 And last, if you like the minimal style, well you have a lot of choice. This post is most for who has/wants an original style, but also minimal style can be particular, let's see below:
4 E in fine, se ti piace lo stile minimal, beh hai una marea di scelte. Questo post è più indirizzato a chi ha/vuole uno stile originale, ma anche lo stile minimal può essere particolare, vediamo qui sotto:

Photo by pumpsandpastry
Photo by glamradar